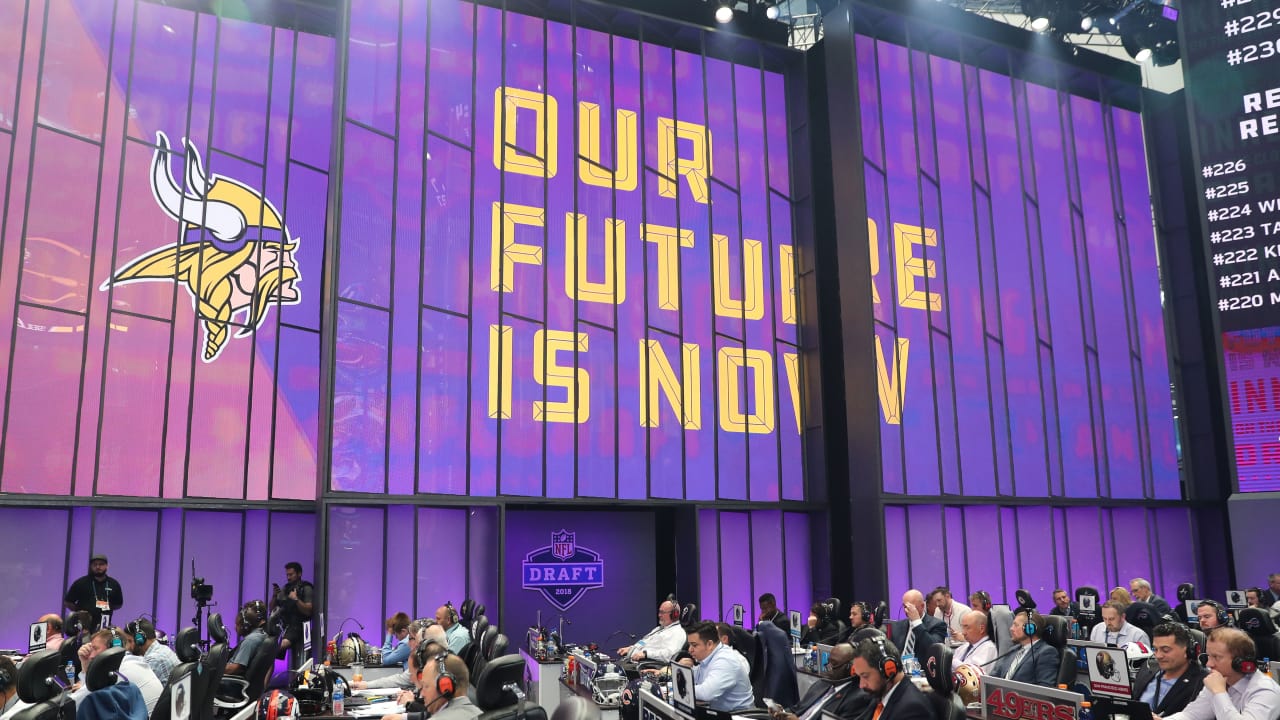 I always say, I'm not saying this is what's going to happen. Will it be correct, no. I have hit on a decent number of signings and picks over the years (Cousins, Carlson, Lee, Munnerlyn, Hill, Jennings, Waynes, Patterson, Hodges, Harrison Smith and Floyd) but it's next to impossible to ever get these right but I know you guys enjoy the read. I look to assess our current needs as best as I can and keeping it as realistic as possible.
I must say, I do a lot of research on these guys and if you look at my previous mocks, many of the guys I have us selecting may not be making an impact for us but they are making a big impact elsewhere.
REMEMBER ANYTHING CAN HAPPEN!!!! I am not adding money into these deals because it's impossible to predict
The Vikings finish 8-7-1 and receive the 18th pick in the 2019 NFL draft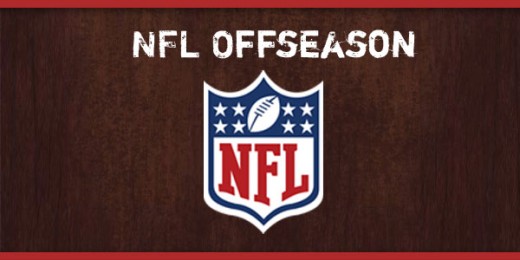 2019 Vikings Free Agents/Cuts/Restructures
Cuts
LT- Riley Reiff- Doubt this happens but I hope it's considered. Especially if they were to follow the route I am going to in this mock. It will cost us ~$6 million in dead money but save us around $5.5 million.
RG- Mike Remmers- He was just brutal at RG this year. Cutting him saves ~ $5 million
Restructures
DE- Everson Griffen- Everson still has some left in the tank. I dont think we should cut him outright but hopefully shave ~ $3-4 million off the cap hit
TE- Kyle Rudolph- his production went down quite a bit this year but he's a great leader and is probably going to win WP Man of the Year. I can see him taking a discount and staying with the team. Hopefully here we can shave another ~ $3-4 million off the cap here.
Restricted Free Agents
P- Matt Wile- Original Round Tender, I say we keep Wile. He seemed to be kicking a lot better by years end.
FB- CJ Ham- Original Round Tender, Ham wont cost much and is a pretty solid pass catching FB. I'd like to keep him.
OT- Rashod Hill- I cant stomach him subbing in at tackle any longer. Although he would be fairly cheap to keep, I say let walk.
TE- Josiah Price- Let Walk
Unrestricted Free Agents
Re-Signed
DT- Sheldon Richardson (3 year deal)- Richardson was rock solid this year. I take him over Barr any day if I had to decide between the two.
SS- Anthony Harris (4 year deal)- Played at an elite level when Sendejo went down and is a "must" re-sign
C/OG- Brett Jones (1 year deal)- acquired him via trade and is a good depth piece here.
K- Dan Bailey (1 year deal)- I'd rather not go through drafting another kicker. I still think Bailey is the best available.
DT- Tom Johnson (1 year deal)- Excellent signing by us this year. No matter the age, Johnson has always been effective in Zim's system.
WR- Aldrick Robinson (1 year deal)- A solid #4 IMO. Had a good connection with Cousins.
KR/PR- Marcus Sherels (1 year deal)- Has been a solid returner for us
Let Walk
LB- Anthony Barr- I thought he played better at years end but I feel like we can fill this void in the draft
RB- Latavius Murray- I've always been a Murray fan but I dont know if we could afford him.
OG- Nick Easton- Neck injuries are never good. I'd rather let him walk.
RB- Ameer Abdullah- Easy release.
OG- Tom Compton- Was not big on Compton at all. I'll pass
FS- George Iloka- With the emergence of Harris, we had no use for Iloka.
QB- Trevor Siemian- It's time to give the #2 position to Sloter
Trades
Vikings trade SS Andrew Sendejo to the
Atlanta Falcons
for a 6th round pick. Atlanta desperately needs safety help and I still think we can get something for Sendejo. Even though he has a $5.5 million dollar cap hit, Atlanta will look to restructure his deal.
Vikings trade WR Laquon Treadwell to the
Buffalo Bills
for a 7th round pick. Treadwell got more looks this year but didnt impress all that much. However, his age and draft pedigree could still warrant some value.
After all these moves, this will give the Vikings roughly $25 million in cap space headed into free agency and Spielman will have a total of 10 draft picks to work with given what we had, traded for and get as compensatory (these picks have not came out yet but there are a few sites predicting what we will get)
OG- Rodger Saffold- 4 year deal
-I initially had Mark Glowinski here but he was just re-signed. Safford has been a top guard every year outside of his injury riddled 2015. Even though he is 31, he still has some years of solid play left in him.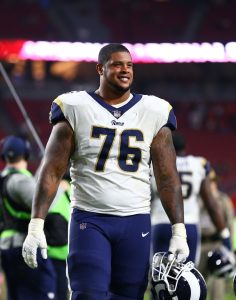 OT- Ty Nsekhe - 2 year deal
-I'll give credit here to YikesVikes. Love the idea of this signing and we should be able to get him fairly cheap. It will remain to be seen if the Vikings put ONeill on the left side or Nsekhe.
WR- Tyrell Williams- 1 year deal
-Williams has always been a decent performer in LA. I think he would be a solid #3 WR for us
LB- Elijah Lee- 1 year deal
-We actually drafted Lee in the 7th round in 2017. We met with him a ton before the draft as well. He knows the system and knows Zim. He played great for the 49ers this year and is set to hit the market. Good low risk high reward signing.
Round 1 (18th)
OG/OT- Cody Ford- Oklahoma
-Ford is an excellent offensive lineman. He currently plays OT at Oklahoma right now but could kick into guard in the NFL. He has unbelievable quickness and strength and excels in both run and pass blocking.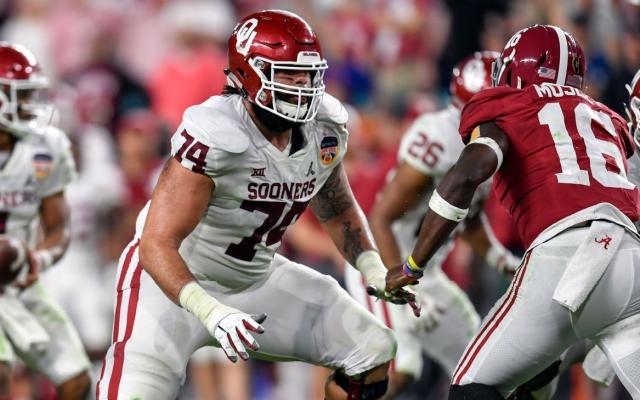 Round 2 (50th)
LB- Vosean Joseph- Florida
-Joseph was one of the top LBs in the country this year and can fill Barr's spot with ease. He's a fast sideline to sideline LB that is much better when it comes to the blitz than Barr was. He is very similar to Telvin Smith from Jacksonville. And he also has the same knock as Smith did, he could "put on weight and get stronger". IMO, I think he will be just fine.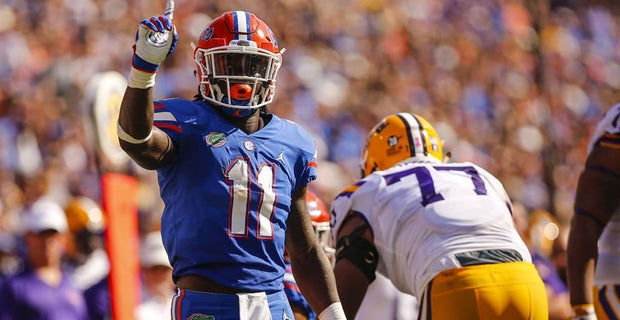 Highlights:
https://www.youtube.com/watch?v=iJCY5ORqdH0
Round 3 (82nd)
DE- Austin Bryant- Clemson
-Bryant is a good player that was stuck behind a bunch of great players so I can see him falling and he brings excellent value here. He is referred to as "The forgotten Clemson defensive lineman". Griffen's future is up in the air and this is a kid that could be a starter by year 2.
Highlights:
https://www.youtube.com/watch?v=0YU8_Xp8r04
Round 4 (114th)
OT- Dalton Risner- Kansas St.
-We have already met with him at the Senior Bowl this week. He has shown great versatility, can play multiple positions and excels in pass blocking. He could sit behind Nsekhe and O'Neill for a year and then take over as the starting RT while ONeill moves to RT. He also played OG during his K-State days which he could end up playing here as well.
-------
TRADE
-------
Vikings trade their 6th round pick (173rd) (via Atlanta) and their 6th round pick (Compensatory for Teddy) to the

New York Giants

for their 5th round pick (Compensatory for Devon Kennard)
Round 5 (via NYG)
QB- Kyle Shurmur- Vanderbilt
-Yes we traded with the Giants to take Shurmur's son. If Shurmur doesnt take him, I'm sure he'd like him with Zim. Chances are the Giants take a QB round 1. Shurmur is a very smart player and has shown a lot of improvement over the past few seasons at Vandy. He will be a #3 behind behind Cousins and Sloter.
Round 6 (178th)
RB- Rodney Anderson- Oklahoma
-Anderson missed the majority of the season due to a knee injury however he is one of the top backs in this class. I've always been a big Anderson fan but by the looks of it he could fall. I think this would be a great value pick and will be our replacement for Murray. He is a very similar RB to Murray. A north-south runner that can play a workhorse role if needed.
Highlights:
https://www.youtube.com/watch?v=utferOWkERo
Round 7 (via Buffalo)
S- Mark McLaurin- Mississippi St.
McLaurin made a ton of plays at Miss St. and is a ball hawking type safety that will provide some depth after losing Iloka and Sendejo. He is very similar to Harris when he was coming out of Virginia.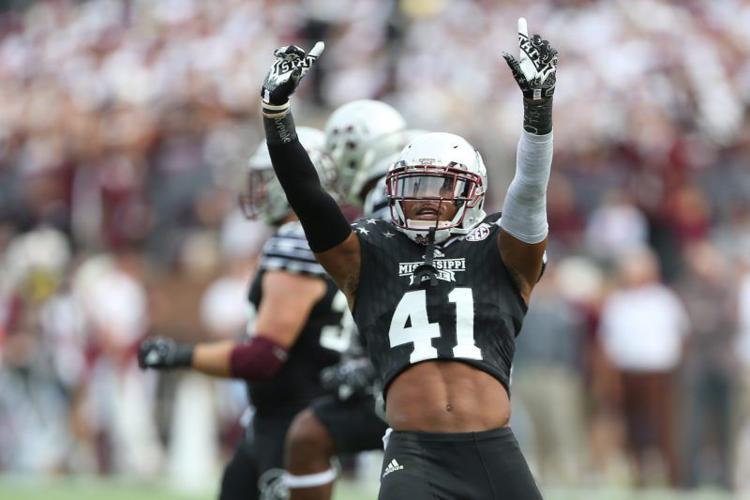 Round 7 (Compensatory for Stephen)
LB- Khalil Hodge- Buffalo
-Hodge is a freak athlete that will probably get overlooked due to where he went to school. However, he is a strong tackler and recorded 154 tackles last year and provides depth.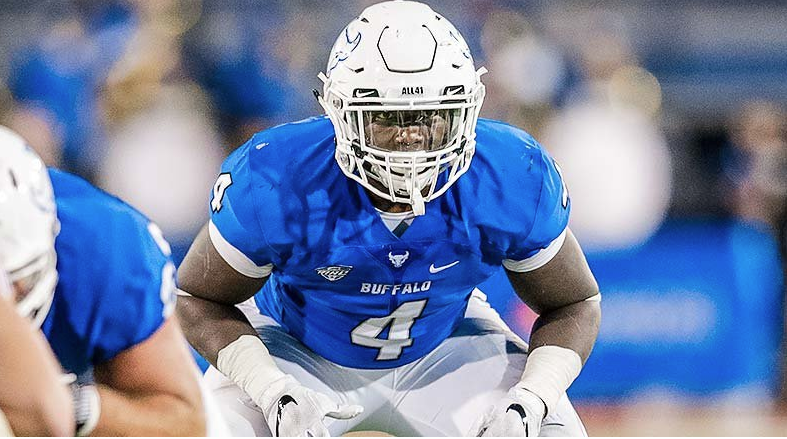 Round 7 (Compensatory for Brock)
DT- Chris Slayton- Syracuse
Had to add in a 'Cuse guy since it's under an hour away from me. Slayton was solid at Syracuse and can provide some depth along our DL
Projected 2019 53-man Roster
Red is free agent signing, Green is rookie
OFFENSE
QB- Cousins/Sloter/
Shurmur
RB- Cook/
Anderson
/Boone
FB- Ham
WR1a- Diggs/Robinson
WR1b- Thielen/Beebe
WR3-
Williams
TE- Rudolph/Conklin/Morgan
LT-
Nsekhe
,
Risner
LG-
Saffold
C- Elflein/Jones
RG-
Ford
/Isidora
RT- O'Neill/Collins
DEFENSE
DE- Hunter/Weatherly
DE- Griffen/
Bryant
3 tech DT- Richardson/T. Johnson/Holmes
1 tech DT- Joseph/J. Johnson/
Slayton
SLB-
Joseph
/Wilson
MLB- Kendricks/
Hodge
WLB- Gedeon/
Lee
CB1- Rhodes/Hughes
CB2- Waynes/Hill
SCB- Alexander/Sherels
FS- Smith/
McLaurin
SS- Harris/Kearse
SPECIAL TEAMS
K- Bailey
P- Wile
LS- McDermott
KR- Hughes
PR- Sherels
FINAL THOUGHTS: This offseason I set up was very OL heavy which might be a shade unrealistic but if Zim and Spielman want to keep their jobs and get the maximum out of Kirk Cousins, I feel like they need to do this. Cut the dead weight and move on from our losses. I feel like money wise, all of this is very reasonable and doable. This would give our OL 3 new starters. Which seems like a lot, but it's exactly what I think we need....3 new starters along with O'Neill and Elflein. One thing about the OL I signed and drafted is that they all have versatility. Saffold can play either guard spot, Nsekhe can play either tackle spot, Ford can play guard or tackle and Risner can play guard or tackle.
I also think one of the more "underrated" moves of this mock offseason is moving Sloter to #2. We dont need the "veteran backup" anymore with Cousins. Cousins is the vet that can teach these young guys in Sloter and Shurmur. They are two QBs with a lot of potential and can be groomed and see where the chips fall when Cousins contract is up. But me personally, I would feel more comfortable with Sloter in the game than Siemian if Cousins was to go down. Sloter is a gamer. He reminds me of a poor man's Pat Mahomes. I think he could be a "sneaky" possibility to take over in a year or so if Cousins flops. I know others think different. Either way, I hope you guys enjoyed the read!!!